Contacts and Gmail are two parts of the well-integrated applications that make up Google Workspace (formerly G Suite). We at HiView Solutions specialize in Google Workspace, so we are always looking for ways to help users get more out of the collaboration tools.
A common question we receive is related to mass-sending emails in Gmail. To do so, you may choose to create a Distribution List via Google Groups. If you don't wish to create a Google Group, another great option is to use contact labels.
Google Contact labels help you organize and keep track of your contacts. Follow the guide below to get started with your first contact label.
How to create a contact label in Google Contacts
On your desktop computer, open your contact list (contacts.google.com).
On the menu at left, click the dropdown titled Labels.
Click + Create label.
Input the title you would like for your label (for example, "Newsletter Recipients").
Click Save.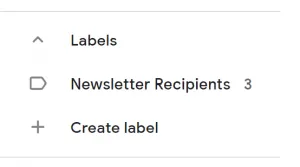 Your first contact label is now complete! The next step is to add contacts to your label.
How to add contacts to a contact label
Within the Contacts interface, click the checkbox next to each contact label by hovering over the contacts' names.
Once you have selected all the contacts you want to add, click Manage labels (arrow-shaped label icon at top).
Click your label.
Click Apply.
Alternatively, if you only want to add one or a few contacts to your contact group label, you can simply drag it to the label in the left-hand menu. After you release your mouse, the contact will be added to your contact label.
How to search for contacts with a label
When searching for a contact, you can filter for label designation.
Within the Contacts interface, click Labels.
Click your label.
All contacts attached to that label appear.
How to send to members of a contact label in Gmail
Now that you have created your contact label, you can easily send emails to all the contacts attached to it. To do so, simply type the name of the label in the "To" field in Gmail.
How to share a contact label in Gmail
Unfortunately, there is no feature in Google Contacts allowing you to share Gmail labels. For this reason, developers have created add-ons for this feature which are available in the Google Workspace Marketplace.
Alternatively, you can share your Google contact individually by doing the following.
On your mobile device, navigate to the Google Contacts app.
Tap one of your contacts.
Tap More (three dots) in the top right corner.
Tap Share.
Tap Continue.
Select your preferred sending method, select the recipient, and tap Send.
How to delete a contact label
If you decide you no longer want your contact label, do the following.
Navigate to the Contacts interface.
In the left-hand sidebar, hover over the name of the contact label.
Click the trash can icon that appears.
In the dialog box, indicate whether you want to keep or remove the contacts attached to the label and click Delete.
Other Resources
>> How to Create a Gmail Distribution List: Complete Guide
>> How to Migrate Contacts from Outlook to Gmail
>> How to Update Employee Gmail Signatures
Need assistance?
We hope this guide was helpful! If you are a Google Admin seeking the support of a certified Google Cloud Premier Partner, we are here to help—we offer migration services, training, complimentary support, and more for Google Workspace. Contact us using the form below and we will follow up with you promptly.