Google Workspace is a productivity platform that is used by over 6 million businesses globally. Its combination of email, document, chat, and video collaboration tools at a reasonable price has made it a no-brainer for growing organizations.
At HiView Solutions, we work with businesses of all sizes to help implement Google Workspace for their teams. This article will provide an overview of the top Google Workspace features that companies take advantage of when making the switch.
So whether you are starting a new business and need an email platform, or are a company looking to transition from a legacy system, we can help you understand how to get the most out of these tools.
But first, let's take a look at what Google Workspace includes.
What is Google Workspace?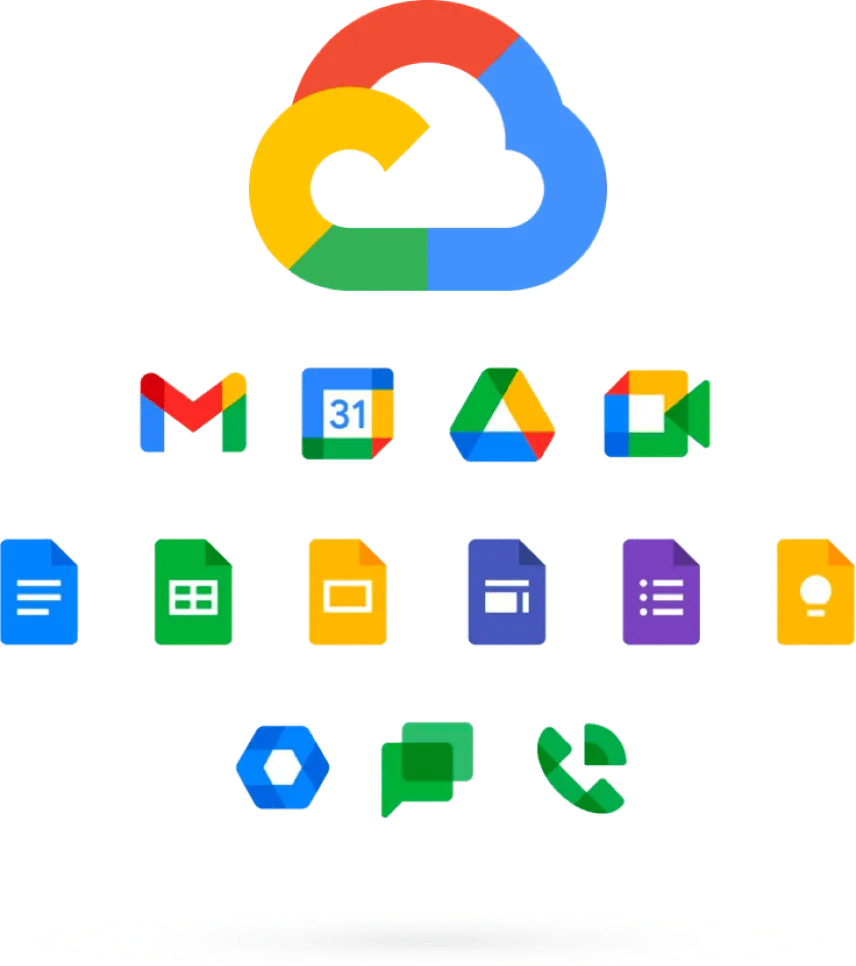 Google Workspace (formerly G Suite or Google Apps) is a set of productivity tools from Google that are available to individuals, businesses, and schools worldwide. These browser-based tools are designed to work together seamlessly, no matter where the person is located or what type of devices they use.
The core services for Google Workspace include the following:
Gmail
Google Calendar
Google Drive (including Google Docs, Sheets, and Slides)
Google Meet
Google Chat
Google Sites
Google Keep
Google Vault
… and more.
In addition, Google offers special versions of these tools for companies—their Business and Enterprise editions. These editions add the extra features and security settings businesses need to operate in today's complex IT landscape.
Let's examine the top features of Google Workspace and how businesses use them to maximize their investment in the platform.
1. Any device, any time, anywhere
Google pioneered remote productivity before it came into focus with the onset of the COVID pandemic. The core services of Google Workspace were initially designed to be used primarily in a web browser, meaning that it didn't matter if you were on a Windows laptop, a Mac, a Chromebook, or a Linux computer—you always had access to your data.
And because it is web-based, you simply need to log in from your closest device to access your work tools and data. No more installing clunky applications or needing access to that one computer holding your files.
In addition, Google has developed custom applications for Android and iOS devices, allowing users to enjoy a productivity experience tailored to the strengths of your preferred mobile device. There is no need to wait until you open your laptop to edit that critical business document.
2. Custom domain name
Unlike those who use the consumer version of Gmail (i.e., any account with the @gmail.com domain), Workspace customers can use their corporate domain name and brand identity on the platform.
After you purchase your domain via Google domains, setting up your domain name is a breeze. All the relevant configurations will be set up automatically. It's also just as easy to connect a domain name that you already own or use with the instructions provided by the Google Workspace Support Center.
Google Admins can even set multiple domain names in the same tenant, so if you've previously rebranded or acquired another company, you can still retain your previous email addresses at no additional cost.
3. File storage and sharing
One of the most significant benefits of using Google Workspace is the inclusion of Google Drive. Google Drive is the document storage and sharing platform included as part of your subscription. It even offers unlimited storage on the Enterprise editions.
If you have been paying for a third-party cloud storage provider like Dropbox or Box to facilitate file sharing with colleagues, clients, or vendors, Google makes it easy to transition, all while reducing your total IT spend and product sprawl.
Google Drive also comes with a desktop sync tool, allowing users to treat Google Drive just like a network drive on your laptop. This makes it easy to manage all your files in one place, regardless of whether they are on your local laptop or stored in the cloud.
But simple document storage and sharing is just the tip of the iceberg of Drive's capabilities.
4. Real-time collaboration and Microsoft Office 365 compatibility
One of the most popular Google Workspace features is the real-time collaboration experience when using Google Docs, Sheets, and Slides. If you haven't seen it before, it's a game changer when it comes to document collaboration.
Instead of everyone having a different copy of a Word document saved locally on each user's computer, everyone accesses the same web copy of the document. You can see other users' edits as they are made, speeding up the document creation process. You can also leave notes and alerts for your fellow collaborators, and every change is saved in the document's version history, and any change can be undone at any time.
Additionally, Google offers a Microsoft 365 (previously called Microsoft Office) compatibility mode. With this tool, you can open and edit Office files like Word and Excel directly from Google Drive without the need for a Microsoft license. You can then save the documents in the original format or convert them to a Google Doc for future editing based on your needs. This is a real differentiator when it comes to team collaboration.
There are also a variety of features for organizations looking to retain both Google and Microsoft tools, including those who are not yet ready to transition completely to Google Workspace. These users can also benefit from the assistance of a Google Cloud Premier Partner like HiView.
5. Video conferencing with Google Meet
If you've worked since the onset of the COVID pandemic, you've likely used products that offer video meetings, such as Zoom. You may even be paying for licenses for your team.
As you may know, Google has its own video conferencing tool, Google Meet, which is fully integrated with Google Calendar and Gmail. It offers all of the features one would need from a video conferencing platform, and even offers integrated conference room hardware to make team meetings a breeze.
And best of all, Google Meet is part of the package, meaning that organizations using Google Workspace can reduce their overall IT spend by dropping third-party point solutions like Zoom.
6. Third-party integrations and add-ons
While Google Workspace has an enormous amount of built-in functionality, there are also a variety of third-party applications that can integrate seamlessly and securely into the platform. This allows for nearly infinite scalability options for companies looking for custom or tailored IT solutions.
One application that supports add-ons is Google Drive. You can add grammar-checking tools like Grammarly, Zapier for automation, and or even code your own using Google Apps Script.
If you are looking for extensibility, Google Workspace is the platform for your team.
7. Cloud-based directory and user management
Not all of the great business features are user-facing. On the back end, Google Workspace has a lot going for it.
For example, many companies today are saddled with expensive Microsoft licenses for Active Directory, which serves as the identity backbone for many of its products. It also helps to lock companies into the Microsoft ecosystem.
But Google has the answer. Google's own cloud-based directory and user management tools allow you to manually manage your users in the Admin Console with Google's identity tools or directly integrate with a legacy LDAP directory.
This flexibility makes it easy for companies of any size to get started with Google Workspace without worrying about the technical complexity of such a move.
8. Endpoint security
If your employees are using a mobile device or a laptop, you will need to consider how to keep your company data safe and ensuring that users have secure access. For this use case, Google has the solution.
Google's endpoint security tools make setting a device policy for your user's mobile devices easy. This includes enforcing password requirements, enforcing data loss prevention policies, and even remotely wiping devices if needed.
This functionality is part of the package and can replace expensive MDM tools with clunky management controls, all from the same Google Admin Console used to manage day-to-day tasks. It's yet another way that IT organizations can save on the costs of securing their company's data.
9. Integrated email security
Security doesn't stop with mobile devices. Google Workspace also offers fully-integrated email security tools such as SPF, DKIM, and DMARC to help reduce the likelihood of spam, malware, and phishing attacks. These tools are supported by Google's proprietary machine learning technology, which secures the entire Gmail stack, regardless of which Google Workspace edition you use.
All of these security settings are available in the Admin Console and can be adjusted by Admins with Super Admin permissions.
Similar to other included features, these tools reduce the need for expensive third-party email security services and hardware to keep your company data safe. It's just another way that Google adds value to Google Workspace.
10. Legal data preservation
Last but not least is a feature for legal teams. Google Vault is the data retention and eDiscovery platform integrated with Google Workspace. This allows organizations to control the types of content that are retained and the duration of their retention.
This type of specialized legal tool would be very expensive as a standalone application, but Google offers it as part of the core package for business users.
Final thoughts
If you are looking at using Google Workspace as your productivity platform, or are considering a change from a legacy platform, HiView Solutions can help. We are a Google Cloud Premier Partner and have helped many companies make the switch. In addition to data migration services, we provide premium support and workshops at no cost to you. Reach out to us using the contact form below to learn if HiView would be a good fit for your team.