Google Workspace Essentials
.
A streamlined collaboration suite that integrates beautifully
The best of Workspace for non-Workspace customers
.
Google Workspace Essentials (previously called Google Drive Enterprise) is designed for organizations not currently using Google Workspace who want to take advantage of some of its key features. These include:
Live collaboration
Spread across offices and time zones? Not a problem. With Docs, Sheets, and Slides, you can still work together in real time as if you're in the same room.
Offline access
On all Google Workspace editions including Essentials, users enjoy the ability to work on Docs, Sheets, and Slides files anywhere from any device, even while offline. Your changes will be saved automatically as soon as you regain an internet connection.
Efficient communication platforms
Enjoy secure, enterprise-grade video conferencing with Google Meet (up to 150 participants), and record meetings as needed for team members who can't make it there. Additionally, spark productive conversations at any time with Google Chat.
Thoughtfully designed for
seamless interoperability
.
Because Workspace Essentials is designed specifically for organizations not currently using Google Workspace (G Suite), it fully integrates with other collaboration suites including Microsoft Office. For example, users can see in real time if another team member is editing an Office file you want to access, and receive notifications when it's their turn to edit. Users can also enjoy Outlook interoperability with Google Calendar, helping to avoid missed or delayed meetings.
What does Google Workspace Essentials include
?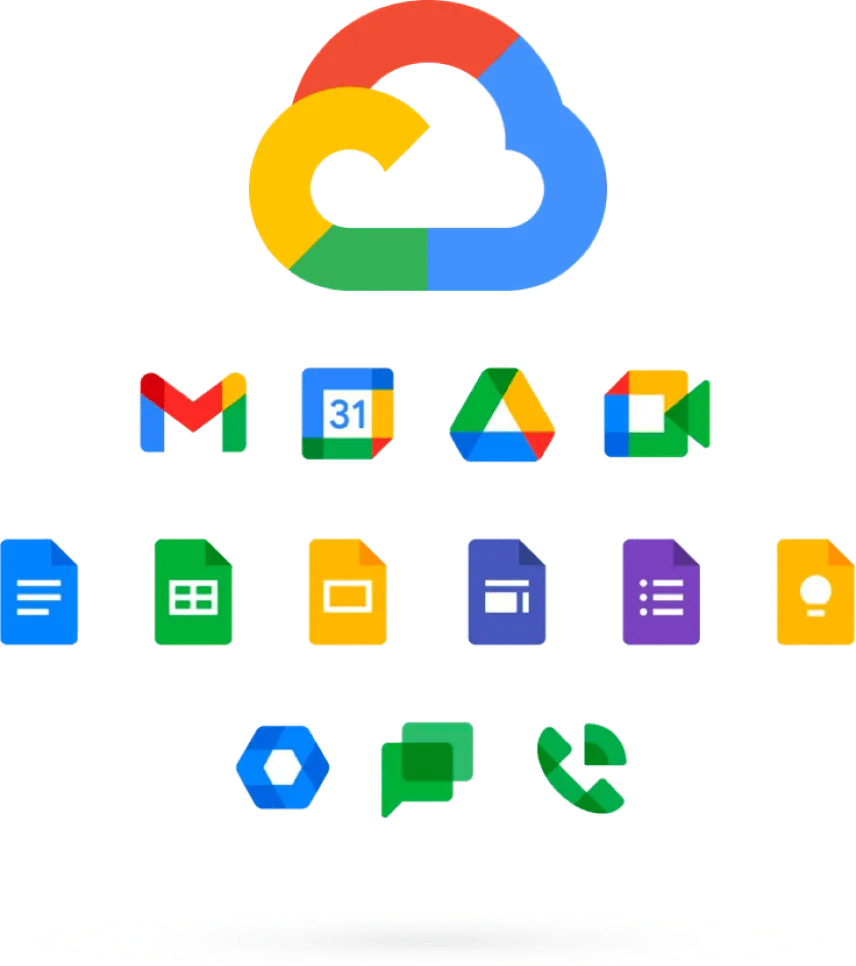 If you're seeking to make the full switch to Google Workspace (G Suite) so you can gain access to all of these apps plus Gmail and more, we're here to help with the transition, including data migration, training, change management, or more. Submit your contact information using the form below to get started.